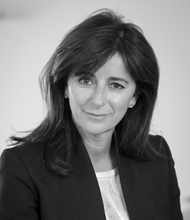 Attorney at the Paris Bar Association since 1992
Attorney at the Israel Bar Association since 2017, as a foreign attorney
Langues:
French, English, Spanish
Secretary:
Jocelyne Gangapal + 33 (0)1 47 27 11 11
Fax: 
+33 (0)1 47 27 12 09
Email:
chichev@menasce-chiche-avocat.com
Véronique MENASCE-CHICHE possesses specialist expertise in business law, acquired over more than 30 years of training, experience and knowledge of the business world.
Known for her skills and forcefulness, she works in both French and English and brings to the service of her clients her cross-disciplinary skills, offering them the best possible service in terms of both counsel and litigation.
She attaches the greatest importance to building a relationship of trust with the client and is personally involved in every case taken by the firm.
Véronique MENASCE-CHICHE has both organised and attended professional conferences and has written numerous articles.
Areas of expertise:
Business law – commercial contracts,
Company law,
Acquisition/disposal of viable companies, companies in difficulty,
Private Equity,
Insolvency.
Qualifications:
Institut Supérieur de Gestion (ISG) - Paris, MBA
University of Paris I – Panthéon-Sorbonne, Postgraduate degree (DEA) in English and American Business Law
University of PARIS II – Panthéon-Assas, Postgraduate degree (DEA) in General Private Law
University of PARIS II – Panthéon-Assas, Master's degree in Private Law
Publications:
Thesis on "Sale of an IT networks company"
Thesis on "Franchising in France and in the United States"
Thesis on "J.I Case v. Borak – United States Supreme Court – 8 June 1964"
Thesis on "The de facto company"
Back to top