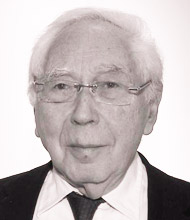 Honorary Attorney at the Lille Bar Association since 1956

Attorney at the Brussels Bar Association
Attorney at the Israël Bar Association
Langues:
French, English, German, Hebrew
Secretary:
Nacéra IDBA + 33 (0)1 47 27 11 11
Fax: 
+33 (0)1 47 27 12 09
Email:
meyer@menasce-chiche-avocat.com
Charles MEYER shares his vast experience of the world of international business with members of the firm and with his clients.
As partner in the firm of MEYER-VERVA-DUPONT, which he founded in 1965, Charles MEYER has worked extensively in the UK, Israel, Belgium, Turkey, Jordan and Russia, as well as in the People's Republic of China.
When China first opened its doors to foreign investment Charles MEYER was the first French lawyer to set up a firm in country to assist a number of industrial groups and banks. In this capacity, he acted as Counsel to François Perrigaud, then president of the CNPF employers' federation, in various negotiations with the Chinese government.
He also took part in a number of symposia on Chinese Law, at the French Senate in particular, with Alain Peyrefitte, under the chairmanship of Senate President Monory, and in Beijing at a conference organised by the French Ambassador, Charles Martin.
In Beijing, he was appointed:
Advisor to the "Reformers' Forum", a division of the government,
and Arbitrator of the Beijing Court of Arbitration.
Charles MEYER is also:
Honorary Professor of international taxation at ENPC-MBA,
Former Secretary of the Conference of Pupil Advocates,
Former French Foreign Trade Advisor.
Areas of expertise:
Domestic and international arbitration
International contracts
International taxation
Qualifications:
University of Lille, Bachelor of Law degree
University of Lille, Bachelor of Arts degree
Hebrew University of Jerusalem (equivalence)
Publications:
Director of publication of the Chinese Law Review
President of the Centre de Documentation Israël - Proche-Orient (CIDIP)
Co-author of several works:
"Israël et l'ONU" (Ed. De Passy),
"Israël et l'occident" (Ed. De Passy),
"Pourquoi un état juif" (Ed. De Passy),
"Les Réfugiés palestiniens, Otage de la Diplomatie", preface by Boutros Boutros-Ghali, former UN Secretary General (Ed. Hermann).
Back to top