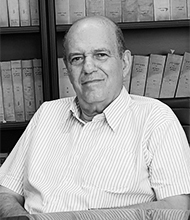 Langues:
Hebrew, English
Secretary:
Sigal BETZALEL + 972 (0)3 5106855
Fax: 
+ 972 (0)3 5106854
Email:
hasson-d@zahav.net.il
Dan HASSON is israeli and is a member of the Israel Bar Association since 1973.
He graduated from the Faculty of Law at the University of Jerusalem and holds an LL.M from the London School of Economics and Political Science.
Dan HASSON has experience and expertise in particular commercial law, corporate law, partnerships, complex transactions in real estate and various types of businesses, representation of foreign investors and various international companies.
Back to top